Panel Presentation: SUNY Online Degrees a Scale

Moderators:
Dr. Lawrence S. Dugan, Provost Fellow, SUNY Online Enrollment and Student Success.
Amanda Wickham, SUNY Online Success Coordinator.

Tracks: Online Student Support, Online Admin/Leadership, Online Instructional Designer, Online Faculty, Plenary

DAY 2: Tuesday, February 23, 2021
10:15 – 11:45AM


Panelists:
Heidi Barcomb (she/her) is an online student through Alfred State College. She is studying Healthcare Management, with a planned completion date of October 2021. After working for several years in the world of non-profit fundraising, she decided to pursue her goal of obtaining a bachelor's degree in health care. She hopes to work in public health, with a focus on maternal-fetal health. Heidi chose an online program because the asynchronous schedule provided the most flexibility for her busy lifestyle. When not completing assignments, she enjoys running, cross country skiing, cycling, and spending time with family and pets.



Amy Pye (she/her) is a SUNY online student studying full-time at Monroe Community College and working towards a degree in Psychology. She spent years as a stay-at-home mom and six years helping to build a small local business that she became Operations Manager of in 2015. In February 2020, that business closed its doors for good, leaving her out of work when the pandemic hit. When she found out her 3 children would be returning to school in the fall on a hybrid schedule, requiring more childcare and help with their remote learning, she decided that it was finally time to pursue her own dreams of going back to school. As an online student, she has the flexibility to study from home, create her own schedule and be there for her children. Amy hopes to be able to continue to graduate school and would like to eventually earn her Masters Degree. As a Freshman, she has a passion for helping others and dreams of someday empowering other women like herself that face domestic abuse and life circumstances that seem insurmountable. Her time these days is spent juggling the demands of school, children and running a household on her own, but she enjoys downtime with her kids whenever possible, walking her 2 dogs and has recently taken up ballroom dancing fitness.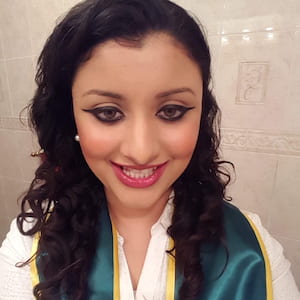 Lila Ijaz (She/Her/Hers) is completing the 100% online M.B.A. degree program at SUNY Oswego. She graduated Summa Cum Laude from SUNY Farmingdale in 2019. She is very goal-oriented and is always juggling her competing life priorities and striving for a work-life balance between personal, family, and professional goals. She loves the flexibility and convenience that the fully online M.B.A. program provides, so that she can learn and complete assignments on her own time. She also really values and appreciates the safety that the online program provides during the current pandemic situation, because she lives with my parents and family, and wouldn't want to risk bringing the virus home to her family from school.
Tracks: Online Student Support, Online Admin/Leadership, Online Instructional Designer, Online Faculty, Plenary